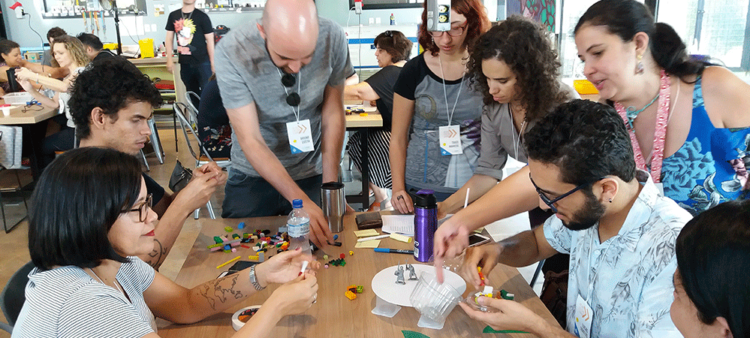 13 de março de 2018
[CTJ] Maker Summit 2018 – A Professional Development Experience
On the 24th of January, CTJ Makerspace held the first Maker Summit for our American Space educators. OUR ULTIMATE GOAL was for teachers to feel truly inspired and motivated to take risks in adopting a Maker mindset, that is, we wanted teachers to feel motivated to use Maker activities in the classroom, as well as to feel capable of effectively integrating them in their classes so as to boost language practice/production. We wanted the Maker Day to be a memorable collective experience and that teachers felt empowered to innovate in their classrooms and to be the drivers of positive change in our school culture.
The first step toward maker-centered education is to "teach the teachers." And what better way for teachers to learn than by becoming students for a day? That was the idea behind the 2018 Maker Summit. Equipped with some of the latest technology, teachers had to figure out how to manipulate the likes of virtual reality apps and glasses, Osmo Words kits, stop-motion videos apps, green screening, and Design Thinking. Educators got firsthand experience of the challenges, insecurities, and benefits that their students may have with interactive, exploratory, creative learning.
After the event, the facilitating team sat together to discuss feedback from the involved teachers. Upon reflection, a series of important conclusions arose, the most important of which are:
It is paramount to be prepared to adapt activities in case technical issues occur, and not to let potential failures dismantle the whole project. In short: you always need a plan B!
In the mindset most of us were raised in and are accustomed to, it can be easy to think of discovery-driven learning as unclear and lacking in instruction, of noisy classrooms as messy or out-of-control. Therefore, it is important to keep an open mind and come to terms with the fact that learner autonomy in the classroom requires, also, that facilitators have the skills necessary to harness students' creative energy for learning.
Overall, the 2018 CTJ Maker Summit was a valuable immersion experience for all involved parties and one that should yield fulfilling results in the near future.
See here photos of this great teacher development opportunity.
Written by Paula Cruz